Dijsselbloem wordt beloond voor het de vernieling in helpen van Griekenland
Dijsselbloem naar alle waarschijnlijkheid herkozen
Minister Dijsselbloem van Financiën maakt vandaag een goede kans te worden herkozen als voorzitter van de Eurogroep. Hij krijgt vermoedelijk de steun van tweederde van zijn collega-ministers. De enige tegenkandidaat is de Spaanse minister De Guindos.
Dijsselbloem: ik maak kans
– Hoofdinhoud
maandag 13 juli 2015, 15:36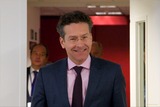 Bron: The Council of the European Union
BRUSSEL (ANP) – Minister Jeroen Dijsselbloem denkt goede papieren te hebben herkozen te worden als voorzitter van de eurogroep. Voor zover de andere ministers van Financiën van de negentien eurolanden zich maandagmiddag in de kaarten lieten kijken, lijkt er zich inderdaad een meerderheid uit te tekenen voor herbenoeming van Dijsselbloem.